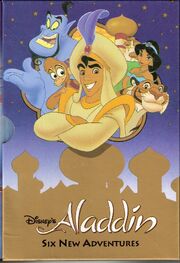 Aladdin: Six New Adventures is a six-part collection of short chapter books that focus on Aladdin and his friends.
Stories
Cover
Title
Release Date
Publisher

A-Mazing Aladdin
January 1, 1993
Mega-books
Ben Baba Abad is back! After 100 years of peace, the sorcerer has returned to Agrabah to spread his evil. There's chaos in the marketplace. The palace guards are acting strangely, and the Genie is imprisoned in Abad's underground temple of evil. To rescue the Genie and save Agrabah, Aladdin and Jasmine must master the terrible maze that surrounds the temple, and the dangers lurking within. And if they make it...they still have to face Ben Baba Abad!

Jasmine and the Disappearing Tiger
January 1, 1993
Mega-books
Ever heard of Omar and the Four Dates? Aladdin wishes he never had. Omar is a magician who's been invited to perform at the palace. Using magic spells, he makes elephants and dancing ropes appear. That's fun! He also makes Rajah disappear. That spells trouble! To find the disappearing tiger, Aladdin must first rescue Omar from a creepy sheik who's holding him captive. And that's double trouble!

Abu and the Evil Genie
January 1, 1993
Mega-books
There's a bad-news genie named Ashab Khan on the loose—and he's kidnapped Abu! Aladdin, Jasmine, and the Magic Carpet follow Khan's smoky green trail to an invisible desert oasis, where the giant green genie makes Abu his slave. Can Aladdin save Abu and set a trap for Khan the All-Powerful—before he destroys Agrabah?

Aladdin's Quest
January 1, 1993
Mega-books
High in the palace is a tower room where no on ever goes. In that room there is evil at work. Accidentally, Aladdin interferes with a curse cast there by Jafar—before Jafar was cast out of the palace for good. Now Jasmine is in great danger, and Aladdin is up against the dark magic of power-mad sorceress! Can he untangle the mess he's made and rescue Jasmine—without the Genie's help?

Don't Bug the Genie!
January 1, 1993
Mega-books
What a mess! The Genie's belly jewel has been stolen. Worst still, he's been bitten by a strange bug. Now he's blowing steam out of his ears, bubbles out of his mouth, and his magic is out of control! To find a cure, Aladdin must cross the desert in search of the Well of Forgetfulness. He must catch the rare jewel bug. But if he doesn't, the Genie may never get his magic powers working again!

The Magic Carpet's Secret
January 1, 1993
Mega-books
Many, many years before Aladdin became the prince of Agrabah, a mysterious sorcerer named Khuriya wove 100 magic carpets, then scattered them throughout the desert. Now someone is stealing the carpets! Aladdin, Jasmine, Abu, and the Genie must journey into the desert to find out who has taken the carpets—and why. The very last carpet has just been stolen...and this one is Aladdin's friend.
Community content is available under
CC-BY-SA
unless otherwise noted.