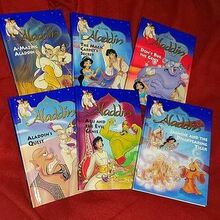 Books based on the animated film Aladdin.
Series of six short chapter books starring Aladdin and his friends in new adventures with new enemies.
Cover
Title
Release Date
Publisher

A-Mazing Aladdin
January 1, 1993
Mega-books
Ben Baba Abad is back! After 100 years of peace, the sorcerer has returned to Agrabah to spread his evil. There's chaos in the marketplace. The palace guards are acting strangely, and the Genie is imprisoned in Abad's underground temple of evil. To rescue the Genie and save Agrabah, Aladdin and Jasmine must master the terrible maze that surrounds the temple, and the dangers lurking within. And if they make it...they still have to face Ben Baba Abad!

Jasmine and the Disappearing Tiger
January 1, 1993
Mega-books
Ever heard of Omar and the Four Dates? Aladdin wishes he never had. Omar is a magician who's been invited to perform at the palace. Using magic spells, he makes elephants and dancing ropes appear. That's fun! He also makes Rajah disappear. That spells trouble! To find the disappearing tiger, Aladdin must first rescue Omar from a creepy sheik who's holding him captive. And that's double trouble!

Abu and the Evil Genie
January 1, 1993
Mega-books
There's a bad-news genie named Ashab Khan on the loose—and he's kidnapped Abu! Aladdin, Jasmine, and the Magic Carpet follow Khan's smoky green trail to an invisible desert oasis, where the giant green genie makes Abu his slave. Can Aladdin save Abu and set a trap for Khan the All-Powerful—before he destroys Agrabah?

Aladdin's Quest
January 1, 1993
Mega-books
High in the palace is a tower room where no on ever goes. In that room there is evil at work. Accidentally, Aladdin interferes with a curse cast there by Jafar—before Jafar was cast out of the palace for good. Now Jasmine is in great danger, and Aladdin is up against the dark magic of power-mad sorceress! Can he untangle the mess he's made and rescue Jasmine—without the Genie's help?

Don't Bug the Genie!
January 1, 1993
Mega-books
What a mess! The Genie's belly jewel has been stolen. Worst still, he's been bitten by a strange bug. Now he's blowing steam out of his ears, bubbles out of his mouth, and his magic is out of control! To find a cure, Aladdin must cross the desert in search of the Well of Forgetfulness. He must catch the rare jewel bug. But if he doesn't, the Genie may never get his magic powers working again!

The Magic Carpet's Secret
January 1, 1993
Mega-books
Many, many years before Aladdin became the prince of Agrabah, a mysterious sorcerer named Khuriya wove 100 magic carpets, then scattered them throughout the desert. Now someone is stealing the carpets! Aladdin, Jasmine, Abu, and the Genie must journey into the desert to find out who has taken the carpets—and why. The very last carpet has just been stolen...and this one is Aladdin's friend.
Series of four short chapter books starring Aladdin and his friends in more new adventures.
Cover
Title
Release Date
Publisher

A Thief in the Night
September 1, 1994
Disney Press
Aladdin and Jasmine can't wait to meet the powerful sorcerer who's visiting Agrabah. But once they do, it doesn't take them long to realize the mysterious visitor has a few tricky plans up his sleeves—including making the Sultan's magic ring, the Mystic Blue Diamond, disappear!

Birds of a Feather
September 1, 1994
Disney Press
Aladdin is having a bad day. The Sultan is sick, and Aladdin has to take over his duties—dealing with paperwork, overseeing the palace staff, even judging a dog show! The worst part is that nobody seems to appreciate what a big job it is—especially Iago. Aladdin wishes that birdbrain could see what it's really like to rule the roost for a day. But when the Genie accidentally zaps Aladdin and Iago into each other's bodies, Aladdin gets a bird's-eye view of the whole situation...

A Small Problem
March 1, 1995
Disney Press
An evil sorcerer gives the inhabitants of the palace of Agrabah enchanted drinking water, with the power to reverse aging. But this fountain of youth never shuts off and Iago speedily regresses to an egg. It's up to Aladdin and Jasmine to trick the sorcerer into revealing the antidote.

Iago's Promise
March 1, 1995
Disney Press
Iago has promised not to say an unkind word about anyone for two days. He'll be rewarded with a brand-new super-deluxe birdbath if he makes it. The trouble is he's overheard the newest members of the palace staff making suspicious plans for the upcoming Ceremony of Fireworks. Iago doesn't want to risk losing his prize, but if he doesn't say something soon, he's afraid the Ceremony might be more explosive than anyone bargained for.
Standalone Books
Cover
Title
Release Date
Publisher

Jasmine's Magic Charm
March 28, 1994
Golden Books
Including a collectible charm designed exclusively for this book—a miniature replica of the magic lamp

Aladdin has gone missing and Jasmine has to rescue him. Genie gives her a magic charm that lets her summon 3 creatures.

Iago Returns
April 1, 1994
Disney
Aladdin and Jasmine go on a new adventure, but Iago decides to tag along. Can they trust the shifty bird to behave himself or will things go awry?

Includes the song "A Whole New World" and audiobook tape.

Abu Monkeys Around
September 1, 1997
Scholastic
Every day during the week, Abu plays tricks on the Genie and his friends.

Aladdin: Wishful Thinking
November 28, 1997
Advanced Publishers LLC.
Jafar is released from his lamp by the Genie, but will his behavior change for the better? Or will Genie have to put Jafar back in his lamp?

Aladdin: Birds of a Feather
2003
Scholastic
When the Sultan gets a new pet, Jasmine realizes it is not happy and must do what's best for it by letting it go free, but will she be able to be honest with her father?

Who's That Ghost?
January 1, 2005
Disney Book Group
Aladdin and Jasmine are bored in the castle on a rainy day, so the Genie decided to liven things up by disguising himself as a ghost and leading Aladdin and Jasmine on a frightening trip to the castle dungeons...

My Best Friend is Jasmine
May 23, 2006
Random House
Jenna and her younger brother and sister are hungry and living on the streets in Agrabah—that is, until Jenna becomes best friends with Princess Jasmine! Find out how this streetwise little girl gets invited to live in a princess's palace in this full-color padded and glittered hardcover storybook.

Jasmine: The Missing Coin
January 25, 2011
Disney Book Group
Life at the palace is splendid for Princess Jasmine and Prince Aladdin. With Aladdin's Birthday coming up, Jasmine wants to find him the perfect gift, so she sets off on a Magic Carpet ride with Rajah the tiger. She is determined to track down the coveted camel coin Aladdin is missing from his rare coin collection. It's smooth sailing until Magic Carpet suddenly loses its power, leaving Jasmine and Rajah stranded in the desert!

Aladdin: One True Love
January 3, 2012
Disney Book Group
Aladdin and Jasmine are happily married, and the Genie has returned from a trip around the world! But the Genie has been feeling blue. All his travelling has made him lonely, and he wishes he could find another genie to share his life with. So when Aladdin runs to catch a kangaroo the Genie brought back from Australia, Jasmine recounts the story of how she found her one true love: Aladdin! Will Jasmine be able to cheer up the Genie and help him find his one true love?

The Jewel Orchard
January 29, 2013
Disney Book Group
One morning at the palace, Jasmine overhears a surprising conversation. A servant claims that there is no fruit to be found in all of Agrabah! Jasmine heads to the market to figure out what has happened. When a trail of beautiful amethysts leads her to the royal orchards, she discovers that all the fruit and water have been turned into sparkling, shimmering jewels!

At first it seems a beautiful sight, but with no fruit to eat or water to drink, the people of Agrabah can't survive. Jasmine and Aladdin must figure out how to reverse the spell that has been cast upon the orchards before it's too late!

Runaway Rajah
July 30, 2013
Disney Book Group
When Aladdin and Jasmine allow their tiger, Rajah, and Abu to join the parade, Rajah goes missing. Follow along with word-for-word narration as Aladdin, Jasmine, and Abu take off on an adventure to bring Rajah back.

Aladdin: The Desert Race
May 23, 2015
Disney Book Group
Jasmine is determined to prove that her horse, Midnight, is the fastest in the land. But when her father won't let her participate in the Desert Race, she must take matters into her own hands. On the day of the race, Jasmine secretly enters the race with Midnight. Will Jasmine and Midnight win the race?

Jasmine's Royal Wedding
May 26, 2015
Disney Book Group
Jasmine and Aladdin are getting married! Jasmine decides that her wedding will be exactly like her mother's. That way she'll still be a part of her wedding. But as Jasmine starts to plan, she realizes she's missing a "treasure of treasures". Will Jasmine find it before she says "I do"?

Jasmine the Matchmaker
May 26, 2015
Disney Book Group
The circus is in town, and Rajah is in love with its star... a pretty tigress named Mallika. There's just one problem: the circus must move on, and so must Mallika. Can Jasmine find a way to bring the two tigers together before the circus leaves town for good?

Aladdin: Abu's Adventure
May 26, 2015
Disney Book Group
When shopping for a gift for Genie, Abu is "monkey-napped" by a merchant and forced to perform with a troupe of traveling acrobats. Aladdin and the Genie will stop at nothing to get their cheeky pal back!

Jasmine and the Star of Persia
July 28, 2015
Random House
After Aladdin tells Jasmine the story of the Star of Persia, they decide to find the jewel. Princess Jasmine discovers that she is wise, kind, fair, and special—just like the queen who once owned the precious jewel. This full-color storybook is perfect for Disney Princess fans ages 3 to 7.

Includes 50 stickers and a card game

A Whole New World: A Twisted Tale
September 1, 2015
Disney Book Group
"What if Aladdin had never found the lamp? This first book in the A Twisted Tale line will explore a dark and daring version of Disney's Aladdin. When Jafar steals the Genie's lamp, he uses his first two wishes to become sultan and the most powerful sorcerer in the world. Agrabah lives in fear, waiting for his third and final wish. To stop the power-mad ruler, Aladdin and the deposed princess, Jasmine must unite the people of Agrabah in rebellion. But soon, their fight for freedom threatens to tear the kingdom apart in a costly civil war. What happens next? A Street Rat becomes a leader. A princess becomes a revolutionary. And readers will never look at the story of Aladdin in the same way again."

Jasmine's New Rules
September 1, 2015
Random House
Disney Princess Jasmine is nine years old. She has private tutors, fancy clothes, and even a pet tiger, but what she really wants is a friend her own age. When a royal family from a nearby kingdom comes for a visit and brings his son, Jasmine is excited. But she and the boy don't have much in common. But then, while on an exciting underground adventure, Jasmine meets the son of one of the palace workers. Will Jasmine finally find a true friend?

Jasmine's Quest for the Stardust Sapphire
February 12, 2019
Random House
Since defeating Jafar, Jasmine and Aladdin have been peacefully learning how to rule a kingdom. But everything's about to change when a powerful curse threatens the land. Thankfully, the Genie is around to help! Kids ages 8 to 12 will love this new tale, which continues the story of Disney Aladdin.

Jasmine's New Pet
December 11, 2019
Dark Horse
Princess Jasmine loves Rajah, her new tiger cub. But living in the palace has rules, and Rajah finds them difficult to follow! He ruins pillows with his claws, knocks over potted plants, chases the palace peacock, and wakes Jasmine in the middle of the night with his yowling. If Jasmine can't teach Rajah to behave better, her father the Sultan will send Rajah away to live with someone else! Jasmine and Rajah have just a week to learn how to follow the rules together.
Retellings
Adaptations of the films.
Cover
Title
Release Date
Publisher

The Magic Carpet Ride
August 1, 1995
Golden Books
A poor boy named Aladdin asks for a wish from his genie. That wish is to be a Prince so he can win the heart of the beautiful Princess Jasmine. The wise genie does not want to grant this wish, for he knows that it is better for someone to love you for who you truly are, than to love you for something you are not. But Aladdin does not listen. Find out about the adventures of young Aladdin after being granted the wish.

Disney's Aladdin and the King of Thieves
January 1, 1996
Grolier Books
Disney's classic story of Aladdin the King of Thieves. Featuring Aladdin, Princess Jasmine, Iago, Abu and the Genie.

Aladdin
July 28, 2015
Golden Books
What do you get when you combine a magic lamp, a flying carpet, a beautiful princess, and a young man who wants to be a prince? Disney's Aladdin! All the fun and adventure of the hit movie is retold in the classic Little Golden Book. It's perfect for children ages 2 to 5, and available just in time for the film's Diamond Edition DVD and Blu-ray release in fall 2015.

Aladdin Read-Along Storybook and CD
August 25, 2015
Disney Book Group
Aladdin's classic tale comes to life! Follow along as the young hero finds the Genie's lamp, falls in love with Princess Jasmine, and defeats the evil sorcerer, Jafar. Real character voices, word-for-word narration, and thrilling sound effects add to the magic in this exciting storybook-and-CD set.

Aladdin (Deluxe Step Into Reading)
January 8, 2019
Random House
Join Aladdin and Princess Jasmine from Disney Aladdin in this Step 2 deluxe Step into Reading early reader with over 30 stickers!
Aladdin, Princess Jasmine, and the Genie are coming to theaters in May 2019 with the live-action release of Disney Aladdin! This Step 2 deluxe Step into Reading leveled reader based on the classic tale is perfect for children ages 4 to 6. Step 2 readers use basic vocabulary and short sentences to tell simple stories. Step 2 is for children who recognize familiar words and can sound out new words with help.

Disney Aladdin is an animated classic featuring beloved characters, an award-winning soundtrack, and a timeless tale of love and adventure.

I Am the Genie
January 8, 2019
Golden Books
A new Little Golden Book all about the Genie from Disney Aladdin!
Children ages 2 to 5 will love reading about the big blue star of Disney Aladdin–the Genie! This new Little Golden Book is beautifully illustrated with a unique art style and features Aladdin, Princess Jasmine, and other characters from the hit movie.

Jasmine's Story
January 8, 2019
Random House
This paperback storybook retells the story of Disney Aladdin from Jasmine's point of view and features stickers and a card game!

Disney: Aladdin
April 16, 2019
SFI Readerlink
Get ready to discover a whole new world in Disney's classic tale of Aladdin! Follow along as Aladdin finds the Genie's lamp, wins the heart of Princess Jasmine, and defeats the evil sorcerer, Jafar. After reading the storybook, children can play with the included 40+ stickers with character favorites Aladdin, Jasmine, Abu, and more!
Trivia
With the exception of Aladdin: Wishful Thinking, every Aladdin book set after the first film, even those based on the sequel films feature him without cuffs despite all other media showing him still wearing cuffs for the sake of fashion.
Community content is available under
CC-BY-SA
unless otherwise noted.